Booxi's Rental module allows you to manage your rental inventory, and offer online booking with simplicity. Finally, you can manage your appointments, reservations, and rentals on the same platform!
Who is it for?
Any company that rents items for durations exceeding one day will benefit greatly from using booxi's Rental module. For example: bikeshops, sports equipment, medical equipment, relaxation pods, virtual golf lanes, rooms, cabins, bed and breakfast, tools, etc.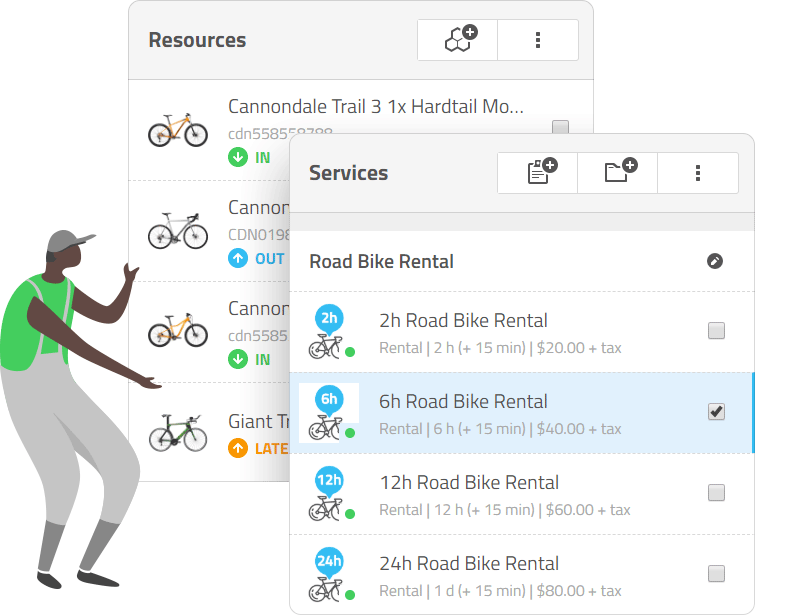 How to set it up
You simply create rental service offer (duration and pricing), and an inventory of rental items (bicycles, kayaks, trailers, etc.) using the Resources main section. Then, assign each item to Rental Services that you have previously created.
Create a rental service offer
Each service has a name ("Bike Rental 3 days"), a fixed duration (3 days), and a fixed price ($50). You can create as many different options as you want and classify them by category.
Create or import and inventory of resources or rental items
You can create your items (resources) one-by-one, with a name, a SKU (either serial number, unique code, or barcode), and, optionally, a storage location. All items with the same name will be shown online as X available (17" bike / 4 available). The import is done using a CSV file.
Associate your services to available items
For each service, you can associate the items that will be available for that service. For example, for "Bike rental 3 days," I can associate all the bicycles in my rental inventory that can be rented for 3 days.
Need help getting started? Follow our step-by-step guide to learn how to configure the Rental module!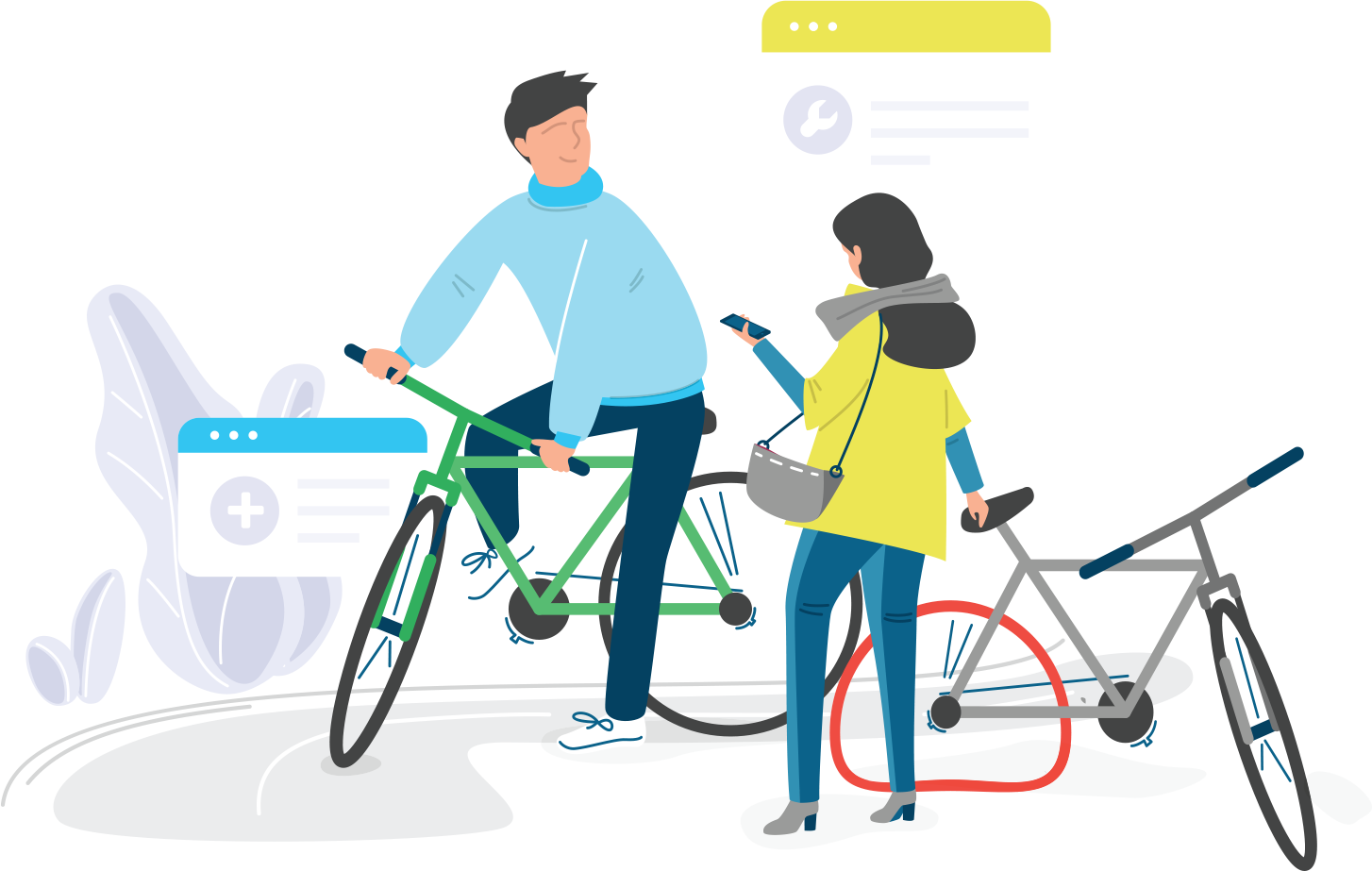 How can customers book?
Customers can book either by phone, online, or in-person. In both cases, they will immediately receive a confirmation email and an SMS reminder with all the details regarding their rental reservation, such as the pickup time and the location, as well as the return date and time.
When booking online, your customers will see your rental options among your other services (appointments and group bookings).
The customer will be able to choose a category and a service. For example: the category will be "Bike Rental" and the service options will be "Mountain bike 2 hours" at $10, "Mountain bike 1 day" at $25, or "Mountain bike 1 week" at $75.
Then they will be able to select a pickup date and time, as well as see which items are available at that time. For example: "17" Mountain Bike x 3 available, 15" Mountain Bike x 1 available."
After choosing the first item, the customer will be able to add more items to their rental reservation. For example: The customer can rent 2x 17" Mountain Bikes at $25/day each, therefore their total cost is $50.
The customer will be able to choose various add-on options, or answer survey questions before confirming the rental. For example: Choose pads, Choose helmet size.
Finally, they will have to provide their contact information before confirming their reservation.
Once the reservation is completed, you can request an online payment to secure the reservation. It can be either the full amount, or a partial deposit.
If the customers books with an employee, in-person or over the phone, the booxi platform gives you more flexibility, such as the ability to mix and match different service offerings, as each item may have a different return date & time. Booxi will therefore adapt both the confirmation and reminder messages to take this into account.
When a customer arrives to pick up or to return a rental item, you can easily retrieve the booking using the confirmation number, the customer's name, phone number, or item identification (serial number or barcode).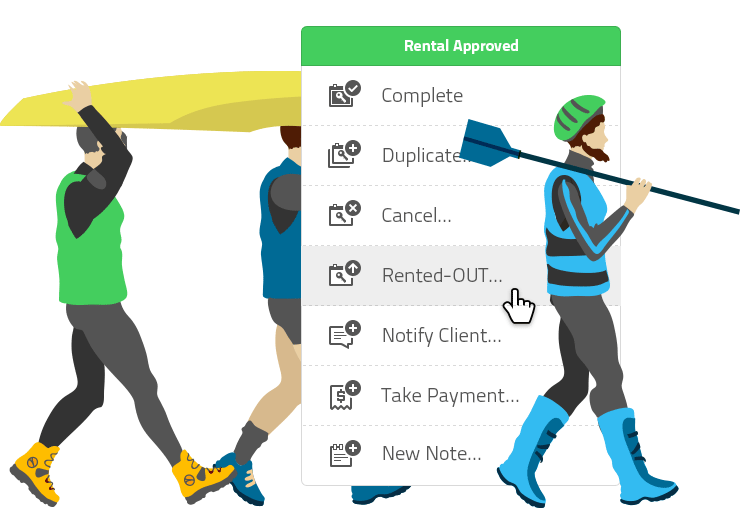 Other features
You can create rental services for spans of minutes, hours, days, weeks, or months..
The expected return date and time is based on your business's open hours, so they will always be adjusted to the next day on which your business is open. For example, if you rent an item for 3 hours just 5 minutes before closing, the item should be returned at the beginning of the next business day. In addition, if you rent an item for 1 day, it must be returned on the next business day.
These rules can be modified, so if the item is rented for less than X hours before the end of the day, booxi will postponed the return to the next day. You can also decide if the items are to be returned at the beginning or at the end of a day.
Each rental item has a status that indicates whether the item is reserved, rented, late, or returned an available. This allows you to use the same system to book in advance, or to simply rent to a walk-in customer.
Each item in the rental inventory has a booking history, and each rental booking also appears in the customer's booking history. This means that you can follow who rented what, and when. You can also add notes for each rental.
The online booking follows similar booking rules, in which you can either allow or forbid online booking, last minute bookings, or bookings too far in advance. You can also allow or forbid the customer to cancel his booking within a certain time before his reservation.
Don't wait! Start automating your rental management today!
Digital Marketing | Customer Success