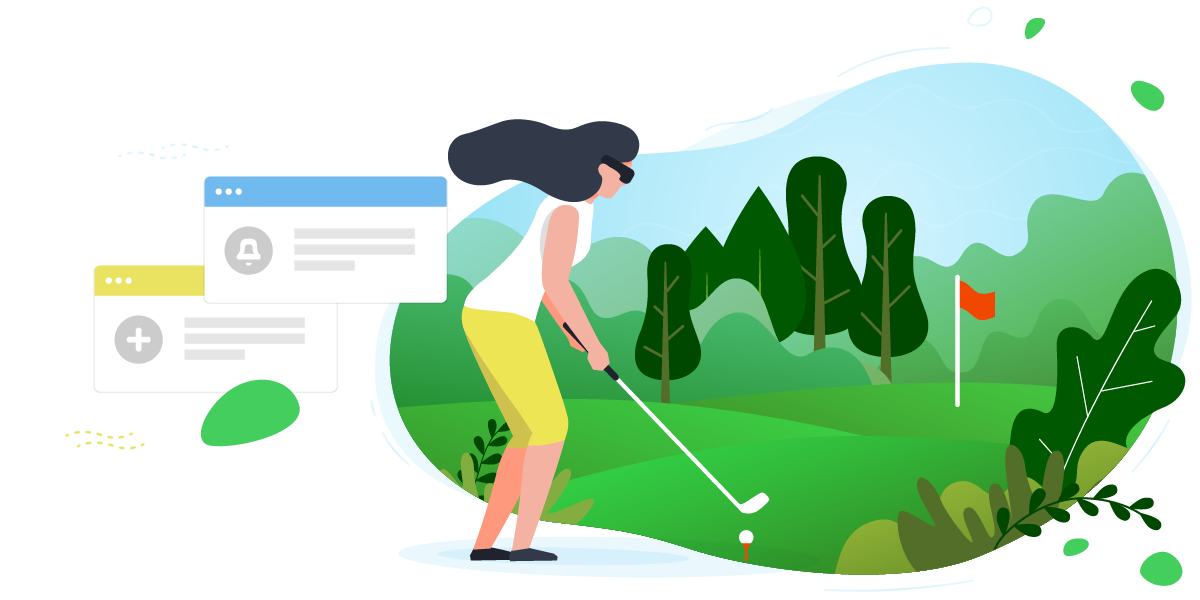 Whether you run an indoor golf course year-round or operate a few simulators at your golf course during the offseason, you need to make sure those expensive systems being used to generate income.
Golf simulators represent a considerable investment, so ensuring they are generating consistent and predictable revenue is critical for ensuring a business venture like opening an indoor golf center can be successful. Part of generating a steady stream of revenue is utilizing as many channels as possible, especially online traffic.
Online booking is already mainstream in the golf industry, with most golf courses offering it on their websites. Customers expect access to online booking for golf, so they are primed to understand and even expect online booking for simulators too.
There are many benefits that come with implementing online booking systems at your golf course. Let's explore why online booking is a viable option for golf simulators too.
Leverage online traffic

Ask yourself: how is my website leveraging online traffic? Do visitors land on your home page and see a phone number they can call if they want to inquire about booking a simulator session? 

Or, can the customer easily see what times are available and simply choose their desired session?

Online booking reduces much of the friction involved with booking a round of simulator golf. Eliminating the complicated back and forth over the phone to try and find a good tee time, understand pricing options, and get all the relevant information, is a tried and true strategy to ensure more bookings are completed, especially if you can pay online.

Your website generates traffic, so it is critical to optimize revenue from these visitors if you want to cover the costs associated with running a golf simulator operation. With a well-designed website that uses a clear call-to-action that directs visitors to book online through a user-friendly interface, you can increase the number of bookings at your golf simulator.

Increase efficiency

Any golf course manager or simulator operator knows how busy the phone can get on the weekend. A chaotic pro shop with the phone ringing off the hook on a Saturday morning is not a great environment for offering good customer service, helping customers with golf apparel, checking players in, or fitting a customer with a new set of clubs.

Having to answer the phone during these times results in a stressed-out staff and a rushed experience for everyone. In an industry that is known for premium customer service, this is not acceptable.

Online booking tools alleviate many of these pains because they dramatically reduce the number of phone calls the pro shop has to answer and payments the staff have to process. This, in turn, allows pro shop staff to focus on the important tasks of providing premium service and selling merchandise. 

Manage rentals

Golf simulators are often a fun introduction to the game of golf. It is not uncommon for groups of inexperienced golfers to come in to play for an evening over a few drinks. The probability that this market does not own golf clubs is very high, so it's important to have rental options.

Give your guests the comfort of knowing that you've got them covered from the moment they arrive. By offering your guests the opportunity to purchase a rental within your online booking interface you have the opportunity to upsell your customers from the moment they reserve their round.

Modern online booking systems offer an eye-catching catalog of products available for rental, so customers can see what they will use when they arrive. Having a selection of rental options opens up the opportunity for premium upsells while simplifying management and preparation for rental requests.

Anticipate demand 

Since online bookings can be made several days in advance, you can anticipate demand and adjust staffing based on the number of reservations on a given day. With online booking, the risk of over or understaffing is greatly reduced, meaning that wasted staffing costs can be eliminated.

Of course, some customers will still phone in to make their reservation. Online booking software can help with simplifying these conversations with dashboards that clearly display each simulator room's booking schedule. These dashboards help to reduce the chance of a double booking and make interactions over the phone quick and easy.

Handle bookings 24/7

One of the biggest benefits of implementing an online booking strategy is that you provide an avenue for taking bookings day and night, all week long. 

When your facility closes, there is no one there to take a phone call and process reservations. Now, if you think that people don't look for golf simulator reservations outside of business hours, you are mistaken.

When you have an online booking tool you open the possibility of generating reservations outside of business hours and adding extra revenue you may not have been capturing earlier. 

Capture and monitor performance
Even for golf businesses, in today's digital world, data is the key to success. Capturing customer data helps with bolstering your marketing efforts. When it comes to running email marketing campaigns or SMS messaging, the first step is capturing customer emails and phone numbers and directly entering them into your Customer Relationship Management (CRM) software. 
Online booking tools go through the data entry process automatically when an online booking is made, greatly increasing CRM data entry accuracy. Once you capture a customer email, you can use their contact information to send thank you emails, win-back campaigns, or experience surveys. Data capture is critical for nurturing your customers to generate repeat visits.
Best of all, online booking software tracks data and provides detailed reporting on micro-level day-to-day performance all the way to operation wide macro-level performance.
Because cloud-based booking tools include an open API, they are able to connect directly into your point of sale system, further streamlining workflows and enhancing data tracking. With a unified CRM between your POS and online booking software, you can track and collect data about your customer for applications across your entire business.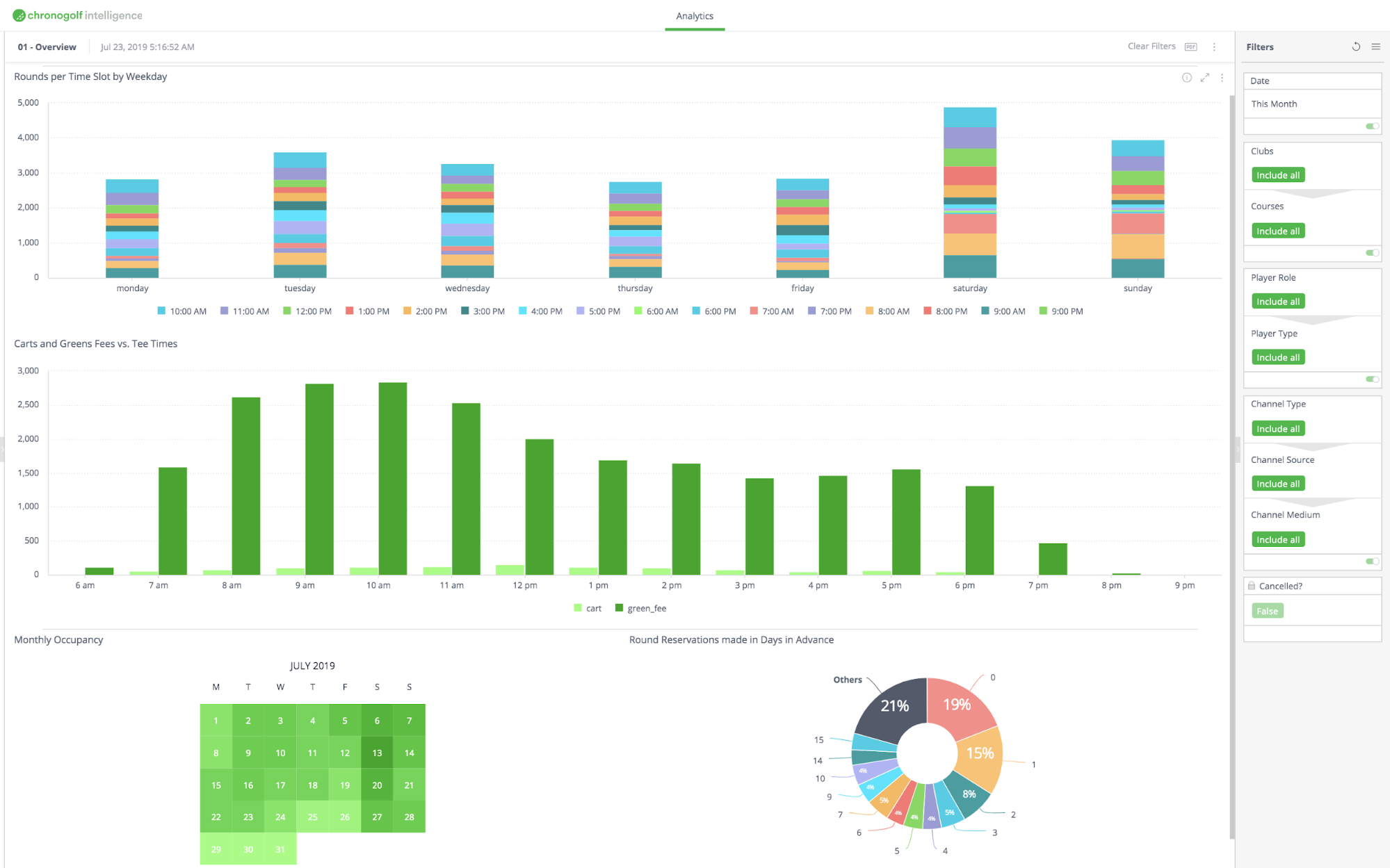 Key Takeaways
Running a golf simulator business means putting a constant focus on filling up bookings, and while taking reservations over the phone is an important channel, online reservations are growing in importance.
Consider how much traffic you generate through your website, either through direct visits or search engine rankings, if you increased conversion on these visits by even one percent you would see a dramatic increase in reservations.
Online booking tools remove friction from the process of booking a reservation, especially if they allow for in-app payment. With a clear call-to-action that directs customers to reserve online, you can generate more reservations, with better data, while making life easier for front-of-house staff.
So, the next time your phone is ringing off the hook and staff are scrambling to handle the influx of calls and customers resulting in bottlenecks and poor service, ask yourself what would happen if just half of these customers were booking online, providing critical data, and paying before they even walk through the door.
Digital Marketing | Customer Success